The application of expansion screen curtain wall is introduced
Views:5 Author:Site Editor Publish Time: 2021-03-31 Origin:Site Inquire
The curtain wall network is formed by cutting and drawing process, which basically includes two kinds: raised and straight.
Curtain wall network expansion material:
Low carbon steel plate, galvanized steel plate, stainless steel plate, aluminum plate, aluminum magnesium alloy plate, etc
Expansion metal mesh features:
Light weight, sound insulation, fire prevention, strong modern sense and other advantages.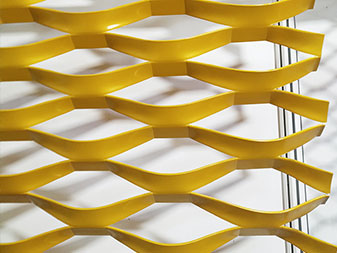 EXPANDED MESH CURTAIN WALL SURFACE TREATMENT

Untreatment, Powder coated(blue,green,yellow,red,black,etc),Anodized, PVDF(surface will be much more smooth, level off and glossy, it also has a much longer life span than common treatment)
Expansion metal mesh application:
Curtain wall cladding.We use curtain walls in different areas, including curtain walls, safety doors and Windows, room partition, decorative ceiling, etc.