Circular perforated metal sheet
Views:1 Author:Site Editor Publish Time: 2021-03-26 Origin:Site Inquire
Circular perforated metal sheet is a material, such as perforated carbon steel, which contains holes punched by a circular die. The round perforated metal made of direct metal is light, versatile, economical and customizable.
shape of a perforated metal plate
Circular, rectangular, square, triangle, diamond, hexagonal, cross, groove and other special patterns
Perforated metal plate surface treatment:
Untreatment, Powder coated,Anodized, PVDF
APPLICATION OF THE PERFORATED METAL SHEET
Perforated metal mesh is widely used in chemical machinery,Pharmaceutical equipment,food and beverage machines,cigarette machines, harvesters,dry-cleaning machine,ironing table,silencing equipment,refrigeration equipment(central air conditioning),hydraulic fittings,filtration equipment and other industries.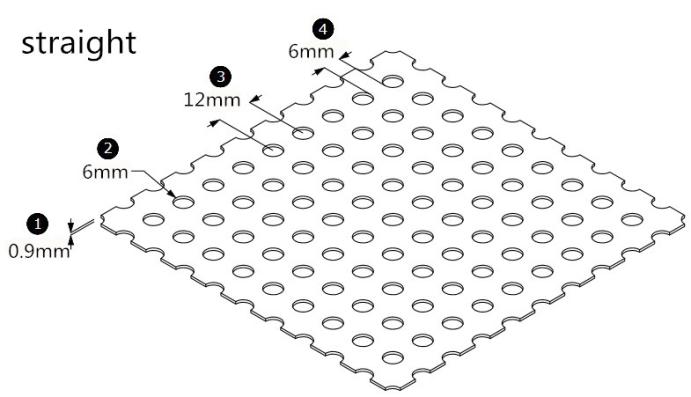 ROUND HOLE SPECIFICATION
Description

Hole Size

(mm)

Pitch

(mm)

Open area

Thickness(mm)

0.4

0.5

0.8

1.0

1.2

1.5

R0.8 T2

0.8

2

0.15

-

-

-








R1 T2

1

2

0.23

-

-

-

-






R1.2 T2.25

1.2

2.25

0.26




-

-

-






R1.2 T2.5

1.2

2.5

0.21




-

-

-






R1.5 T2.75

1.5

2.75

0.27




-

-

-

-




R1.5 T3

1.5

3

0.23




-

-

-

-




R1.8 T3.5

1.8

3.5

0.24




-

-

-

-

-

R2 T3

2

3

0.40




-

-

-






R2 T3.5

2

3.5

0.30




-

-

-

-




R2 T4

2

4

0.23




-

-

-

-

-

R2.5 T3.5

2.5

3.5

0.46




-

-

-

-

-

R2.5 T4

2.5

4

0.35




-

-

-

-

-

R2.5 T4.5

2.5

4.5

0.28




-

-

-

-

-

R2.5 T5

2.5

5

0.23




-

-

-

-

-

R3 T5

3

5

0.33




-

-

-

-

-

R3 T6

3

6

0.23




-

-

-

-

-

R3.5 T5

3.5

5

0.44




-

-

-

-

-

R4 T5

4

5

0.58




-

-

-






R4 T6

4

6

0.40




-

-

-

-

-

R4 T8

4

8

0.23




-

-

-

-

-

R5 T7

5

7

0.46




-

-

-

-

-

R5 T8

5

8

0.35




-

-

-

-

-

R5 T10

5

10

0.23




-

-

-

-

-

R5 T25

5

25

0.04




-

-

-

-

-

R6 T8.5

6

8.5

0.45




-

-

-

-

-

R6 T9

6

9

0.40




-

-

-

-

-

R6 T10

6

10

0.33




-

-

-

-

-

R7 T10

7

10

0.44








-

-

-

R8 T11

8

11

0.48








-

-

-

R8 T12

8

12

0.40








-

-

-

R8 T15

8

15

0.26








-

-

-

R10 T13

10

13

0.54








-

-

-

R10 T14

10

14

0.46








-

-

-

R10 T15

10

15

0.40








-

-

-

R10 T18

10

18

0.28








-

-

-

R12 T16

12

16

0.51








-

-

-

R12 T17

12

17

0.45








-

-

-

R15 T20

15

20

0.51








-

-

-

R15 T21

15

21

0.46








-

-

-

R20 T25

20

25

0.58








-

-

-

R20 T27

20

27

0.50








-

-

-

R20 T28

20

28

0.46








-

-

-

R20 T30

20

30

0.40








-

-

-

R25 T34

25

34

0.49








-

-

-
ROUND HOLE SPECIFICATION
Description

Hole Size

(mm)

Pitch

(mm)

Open area

Thickness(mm)

2.0

2.5

3.0

4.0

5.0

6.0

R2.5 T3.5

2.5

3.5

0.46

-












R2.5 T4

2.5

4

0.35

-












R2.5 T4.5

2.5

4.5

0.28

-












R2.5 T5

2.5

5

0.23

-












R3 T5

3

5

0.33

-

-










R3 T6

3

6

0.23

-

-










R4 T6

4

6

0.40

-












R4 T8

4

8

0.23

-

-

-








R5 T7

5

7

0.46

-












R5 T8

5

8

0.35

-

-

-








R5 T10

5

10

0.23

-

-

-

-






R5 T25

5

25

0.04

-

-

-

-






R6 T8.5

6

8.5

0.45

-

-










R6 T9

6

9

0.40

-

-

-








R6 T10

6

10

0.33

-

-

-

-

-




R7 T10

7

10

0.44

-

-

-

-

-




R8 T11

8

11

0.48

-

-

-

-

-




R8 T12

8

12

0.40

-

-

-

-

-

-

R8 T15

8

15

0.26

-

-

-

-

-

-

R10 T13

10

13

0.54

-

-

-

-

-




R10 T14

10

14

0.46

-

-

-

-

-




R10 T15

10

15

0.40

-

-

-

-

-

-

R10 T18

10

18

0.28

-

-

-

-

-

-

R12 T16

12

16

0.51

-

-

-

-

-




R12 T17

12

17

0.45

-

-

-

-

-

-

R15 T20

15

20

0.51

-

-

-

-

-

-

R15 T21

15

21

0.46

-

-

-

-

-

-

R20 T25

20

25

0.58

-

-

-

-

-

-

R20 T27

20

27

0.50

-

-

-

-

-

-

R20 T28

20

28

0.46

-

-

-

-

-

-

R20 T30

20

30

0.40

-

-

-

-

-

-

R25 T34

25

34

0.49

-

-

-

-

-

-
SQUARE HOLE SPECIFICATION
Description

Hole Size

(mm)

Pitch

(mm)

Open area

Thickness(mm)

0.4

0.5

0.8

1.0

1.2

1.5

C3 U5

3

5

0.36




-

-








C5 U7.5

5

7.5

0.44




-

-

-






C5 U8

5

8

0.39




-

-

-






C5.5 U7.5

5.5

7.5

0.54

-

-

-

-






C5.5 U8

5.5

8

0.47




-

-

-






C6 U10

6

10

0.36




-

-

-

-

-

C6 U12

6

12

0.25




-

-

-

-

-

C7 U10

7

10

0.49




-

-

-

-

-

C8 U10

8

10

0.64

-

-

-

-






C8 U12

8

12

0.44




-

-

-






C10 U12

10

12

0.69




-

-

-






C10 U14

10

14

0.51




-

-

-

-

-

C10 U15

10

1.5

0.44




-

-

-

-

-

C10 U20

10

20

0.25




-

-








C15 U20

15

20

0.56




-

-

-

-

-

C19 U22

19

22

0.75




-

-








C20 U28

20

28

0.51




-

-

-

-

-

C20 U40

20

40

0.25




-

-

-

-

-

C22 U44

22

44

0.25












-

C25 U50

25

50

0.25






-

-






C30 U35

30

35

0.73






-

-

-




C30 U60

30

60

0.25






-

-

-

-

C40 U50

40

50

0.64






-

-

-

-

C40 U80

40

80

0.25






-

-

-




C50 U100

50

100

0.25






-

-

-

-
OBLONG HOLE SPECIFICATION
Description

Hole Size

(mm)

Pitch

(mm)

Open area

Thickness(mm)

0.4

0.5

0.8

1.0

1.2

1.5

LR1×10Z

1×10

7×14

0.2

-












LR1.5×12Z

1.5×12

10.3×16

0.21

-












LR1.5×20Z

1.5×20

4×50

0.30

-












LR2×10Z

2×10

10×15

0.26

-












LR2×20Z

2×20

10×25

0.31

-












LR3×20Z

3×20

6×26

0.74

-

-

-








LR3×20Z

3×20

14×26

0.32

-

-

-








LR4×20Z

4×20

10×25

0.61

-

-

-

-






LR4×25Z

4×25

6.5×41

0.66

-

-

-

-






LR4.5×25Z

4.5×25

7×60

0.51

-

-

-

-






LR4.75×20Z

4.75×20

15×25

0.48

-

-

-

-






LR5×20Z

5×20

20×25

0.38

-

-

-

-






LR6×20Z

6×20

24×24.8

0.38

-

-

-

-

-




LR6×20Z

6×20

26×40

0.22

-

-

-

-

-




LR7×20Z

7×20

13×47.5

0.42

-

-

-

-

-




LR7×25Z

7×25

30×30

0.37

-

-

-

-

-




LR8×40Z

8×40

26×47.5

0.50

-

-

-

-

-




LR10×40Z

10×40

20×50

0.76

-

-

-

-

-




LR2.1×20Z

2.1×20

5×25

0.33

-

-










LR2.4×20Z

2.4×20

5×25

0.38

-

-










LR3×20Z

3×20

5.5×25

0.41

-

-

-








LR4.5×20Z

4.5×20

8×25

0.44

-

-

-

-

-




LR5×30Z

5×30

9×35

0.46

-

-

-

-

-




LR7×25Z

7×25

12×30

0.25

-

-

-

-

-